Yoga is the space where flower blossoms." – Amit Ray
Love Yoga?
Oak Hart Farm will be offering a Yoga Share on the farm in keeping with our, "Feeding Body, Mind, and Spirit" foundation. Yoga has been an important practice for keeping the farmers' mindful and strong here at OHF! We are inviting you to practice with us! We are excited to announce that we have a gifted team of Yoga Instructors that not only value the overall health benefits of yoga, but also are aligned with OHF's philosophy that organically grown nutritionally dense foods are the body's best medicine.
Tuesdays
5:00 pm – 6:00 pm
Sundays
8:30 am – 9:30 am
This is our 4th season offering yoga on the farm.
Yoga Season runs from June 4th through September 10th.
2017 OHF Full Yoga Share: $125.00 for the Season
(Includes 25 Yoga Class Opportunities from June 4th through September 10th)
The more classes you attend the more you will save per class, and the more health benefits you will receive! Yoga class outside in the fresh air on the farm while contributing to the sustainability of Oak Hart Farm! Perfect!
2017 OHF – 10 Yoga Class Share: $10.00 per class $100.00 for partial Season
(Includes 10 Yoga Class Opportunities from June 4th through September 10th)
Walk-In Option $12.00 
Organic Power Smoothie Add-On: $50.00 for 10 Smoothies
(Includes a punch card for 10 Smoothies that will be available at the completion of each yoga class) We will be using farm fresh greens, herbs, and fruits to make a delicious power smoothie to compliment your yoga experience.
ABOUT OUR INSTRUCTORS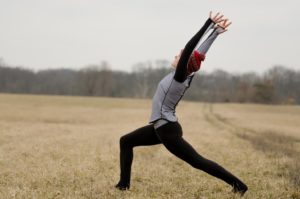 Rachel Dollard
Rachel did her first stretching on the soccer field and track.  After years of hard-impact sports, she found yoga and discovered the physical, mental and spiritual benefits from slowing down her mind and body on the mat.  She still likes a good run, but cannot do it without yoga!  Rachel loves guiding students as they find balance, grace and healing on their mat.  When not health coaching, you can find Rachel on a dirt trail in the Appalachian foothills or in the kitchen testing out new recipes with her husband Jeff. Learn more about Rachel and Nephesh Wellness by following this link:  http://nepheshwellness.org/


Sue Miller
My first experience with yoga was in 2005.  I have practiced Hatha Yoga and other Eastern modalities of yoga ever since.  Through lifes's ups and downs, yoga has sustained me and propelled me to a consistent and earnest practice.  The special beauty is that I can share what I have learned with others so they can find the same amazing peace and road to healing and spiritual growth. I offer Hatha Yoga, Chair Yoga, Yoga Nidra, Meditation and Pranayama.  My background and training is through Integral Yoga, Iyengar Yoga, and Dahn Yoga, with a little flow and Kundalini mixed in. I have studied the Chinese system of meridians, acupressure points and the energy body.  Healing the mind and body by using your own mind and energy is a powerful technique.  I incorporate all of these components of yoga into a comprehensive experience of healing. I feel deeply blessed to live in this beautiful Blue Ridge Mountain community and to share my love of yoga with you all.  I try to bring an open and grateful heart to every situation in my daily life.  Yoga can help you find true peace and relief from the stresses of everyday life. 
http://www.suemilleryoga.com/


Kathi Peterson
A native of Shepherdstown, WV, Kathi Peterson found her true passion and calling when yoga came into her life. She completed her first 200-hour teacher certification at The Expanding Light with Gyandev McCord in Nevada City, CA, and her second 200-hour teacher certification in 2014. Yoga has undoubtedly transformed Kathi's life, and she continues to read about and study the practice of yoga daily, in order to deepen her understanding even further. Her exuberant spirit and joy in life come from a pure and genuine place, and she hopes to reflect that in her teaching. Kathi's warmth and openness are the foundation of her classes. "It is an absolute honor and pleasure to share this life-changing practice with you. Come and explore yourself through yoga with me and discover your unlimited potential."
 

Kate Powell
Kate Powell, founder of Wild Sacred Journey, struggled with disconnection, depression, and body image issues for years before turning to yoga, where she learned to balance fiery discipline and whole-hearted surrender on her journey back to herself.  Around that same time, Kate fell into working on small, sustainable farms, the physicality of which reconnected her to the natural world and her body. Her journey deepened further when she completed her yoga teacher training in 2013 and has since logged over 1,000 hours of teaching group classes, privates, workshops, and retreats. Her passion is giving students the tools to take yoga off their mats and into their lives so that they, too, can walk as authentic, sacred, wondrous, playful Love. Currently enrolled in the White Winds/ FeatherStone Integrative Energetic Medicine certification program, Kate remains, in all areas of her life, a student. She loves reading, creating, being outdoors, good food, and good conversations and can always be counted on to blurt out awkwardly and earnestly heart-felt things in a world that teaches us to keep those close to the chest. For more information:   https://www.facebook.com/katepowell.wildsacredjourney/
Mindy van Setters
Unaware of the profound impact the decision would have on her life, Mindy van Seeters entered her first yoga class in 2005. She has remained a consistent student ever since, completing her RYT 200 with Open Dimension Teacher Training under the guidance of Denise Moore. Mindy believes in the science of yoga as a whole, and appreciates the components of many different styles of yoga. Having always been captivated by the balance and beauty in nature, she admires the connection yoga offers to the natural world around us. She recognizes that this science never ceases to teach any one of us, and enjoys sharing her knowledge of yoga with others.  Learn more about Mindy and Manjula Yoga by following this link:  www.manjulayoga.com